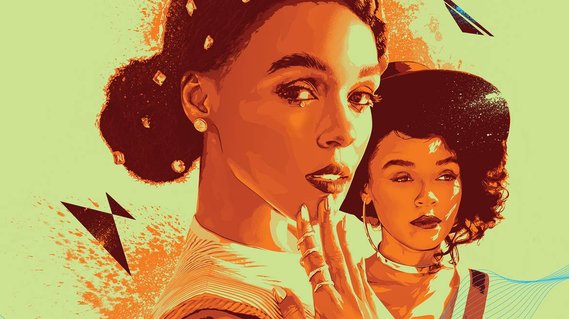 Biography
Simeon Elson is an inspired Adobe certified commercial freelance illustrator, key artist and retoucher from London. Simeon's explosive, realistic works are inspired by sport, music, comics, movies, street art and current affairs. For over 17 years he has developed and diversified his graphical style(s) merging digital illustration, vector graphics, traditional drawing, mixed media elements, retouching and photo manipulation to produce work that are innovative and full of energy.
Simeon is available for hire whilst working remotely or onsite.

Selected Clients

ITV, Microsoft, Diesel, Turner Broadcasting System, BT, Penguin Random House Germany, Confused.com, Brother, Greatcall, East Coast Trains, Momentum Worldwide, Fever-Tree, Sainsbury's TU Studio, Monsoon, Avon, Penguin Books, The Telegraph, Anomaly (NY), Grazia (UK), Macmillan Publishing, Advanced Photoshop magazine, Black Enterprise magazine, Computer Arts.
Testimonials
Simeon is a very talented illustrator and it was great to have him on board as part of the team who worked on the ITV Creative Black History Month 2020 campaign. His illustrations played a big part in the creative, and his dedication to making them perfect by putting in so much effort didn't go unnoticed. I can't wait to work with him again.
Angela Lyttle, Producer, ITV Creative

"Simeon has worked for Mortgage Strategy producing illustrations for several years. He has consistently turned around high-quality work in a timely fashion and is a pleasure to deal with. I wouldn't hesitate to recommend Simeon to anyone looking for a reliable illustrator."
Rebekah Commane, Editor, Mortgage Strategy
"Simeon was great to work with, his unique style and approach was exactly what we were looking for with our sci-fi film poster. He took all of the elements we gave him to create a beautiful illustration. I would definitely recommend him!"
David Parrella, Cinematographer, Parrella Films

"I had a very particular concept in mind for my book sleeve that Simeon was able to capture with ease. The final product is stunning, and better yet has a certain edge and style to it which was just what I was looking for. Finally, he was very responsive and a pleasure to work with."
Shaqueous Williamson, Author
"From the briefing stage to receiving the first rough it was clear that my concept was in safe hands. I found Simeon not only prompt and easy to work with but also he has the right balance of fulfilling the brief and suggesting various executions. The whole process was pleasurable and I received a fantastic piece of art at the end of it."

Justin Snartt, Creative Director, Total TVGuide
"Simeon delivered the perfect illustration that not only adhered to our brief but also included many aspects that Simeon worked in using his own style and expertise. His piece has lifted what could have been a run-of-the-mill cover to something truly unique and eye catching."
Nigel Wynn, Cycling Weekly
"Simeon is a talented, approachable and trustworthy illustrator with a knack of producing dazzling tutorials that employ all manner of mesmerising techniques."
Tom Dennis, Future Publishing
"A great illustrator, delivered exactly what we asked for in a short space of time, always important with a weekly magazine!"
Jonathan AD, Creative Director at Grazia UK